Zoo Lights Vendor Information
_______________________________
_______________________________
LOCATION & SHOW HOURS
San Francisco Zoo
Daytime Hours 10-4 PM (optional)
Zoo Lights Hours: 5-8 PM (mandatory)
Surrounding the Lion Fountain*
Sloat Blvd. & the Great Highway
San Francisco, CA. 94132
http://www.sfzoo.org
Fee or zoo membership required for entry
_____________________________
POP UP SESSION DATES
Vending Session #1 – Friday December 16th – Monday 19th
Vending Session #2 – Tuesday December 20th – Friday 23rd
Vending Session #3 – Monday December 26th – Friday December 30 CANCELED
VENDING INFORMATION
+ Number of vendors: Approx. 10 per day
+ Approx. Attendance Each Day: 1- 1.5K during day & 1.5-2k at night
+ Event is OUTDOORS
+ 2 vendor and 4 guest passes to the SF Zoo per day (value $96)
+ There are no refunds after the payments are made.
+ Vendors are expected to vend for ALL the days they paid for
WIFI
We suggest all vendors use a mobile solution for taking credit cards. There is no wifi due to this venue being outdoors.
FURNITURE AND TENTS 
One 8 ft table and folding chairs are available for each vendor. If you require additional tables please email us to inquire. A pop up 10×10 ft tent will be set up for you. The tent will have WALLS. You are not allowed to bring your own tents due to the SF Zoo erecting specially branded tents for this event.
ELECTRICITY & LIGHTS
Electrical outlets are available. Since this event is also at night, we think you will be much more successful if you have lighting at your booth. A couple task oriented lamps and festive christmas lights will help your display immensely. Please bring your own lighting, extension cords and power strips. Aside from the overall lights in the area, the SF Zoo will only be providing a lit garland on the outside of the tents.
BOOTH ASSIGNMENT & LOCATION 
SF Bazaar vendors will be one of the main Zoo Lights features (along with Santa Claus, Light Displays, Musicians and more) in a main hub of the zoo. This allows for parents to shop leisurely while children are enjoying the other attractions just a few feet away! Booth assignments are first come first served due to the small size of this pop up. You may select from the available tents once you arrive.
LEAVING ITEMS OVERNIGHT
Vendors are welcome to leave decor/furniture and other fixtures overnight. You may pack down and remove your products depending on what you sell. There will be security at the zoo during all hours but SF Zoo and SF Bazaar are not liable for stolen or damaged items. For more details on liability please review the terms and agreements which you consented to during application and payment.
LOAD IN ON YOUR FIRST DAY
Please arrive between 10 AM-11 AM on the first day of our session or from 4-5 PM if you only plan to vend at night. This is plenty of time to set-up, please do not show up early.  SF Bazaar Staff/Zoo Staff may be available to help with load in if you arrive at this time. There will be a few hand carts to assist, but please bring your own cart/dolly if you have it to ensure a speedy load in process. Someone should be able to greet you at the gate. If you do not see an employee you can call Kelly Sheehan 415-317-2905 (call or txt) .
AFTER YOUR FIRST DAY
To Load In Drive Up to GATE B/South Gate  between 10-11 AM. You can then call the front desk at  415-753-7080. Please identify as a vendor and they will call security to let you in. Allow for up to 10-15 mins to be let in.
If you are loading in for only the evening we ask you to arrive at GATE B from 4-5 PM.
During event if you should need assistance you may call
Kelly Sheehan 415-317-2905 (call or txt) – or – Blas Herrera: 415-684-8837 (call or txt)
Guest Passes will be handed out by Kelly and can be left at Will Call for any guests or support staff.
LOADING OUT
Just let yourself out through the same gate. If you wish to have the larger gates opened for a car, you will have to call front desk or security again. Please make sure to allow 20 mins before closing if you have this kind of request.
PARKING AND DIRECTIONS
Free parking in the SF Zoo Lot is available for each vendor. Since the vending area is inside the zoo grounds, we ask vendors to park inside the South Gate/ Gate B, conveniently located a couple hundred feet from the vending area.  Gate B is located about halfway down Herbst Road on the back side of the Zoo.  It is locked at all times and Security must be called to open it every time because it must remained locked.  So please arrive during the load in hours to ensure your access to this parking.
Map to vendor parking lot, click to enlarge.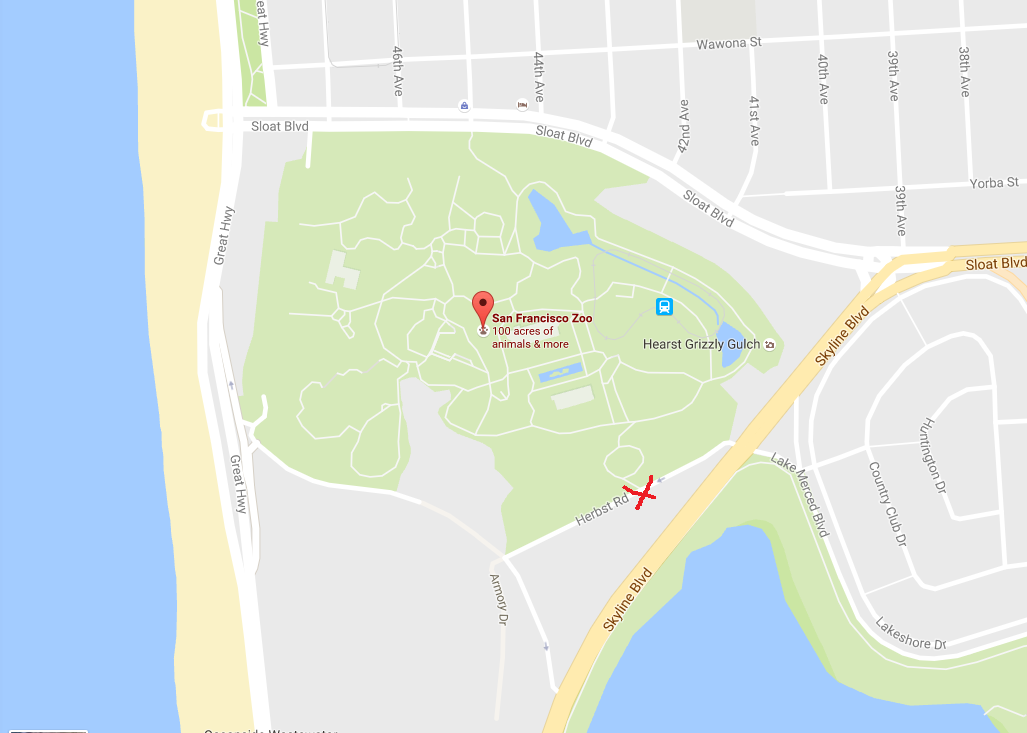 Directions to the zoo can be found here: http://www.sfzoo.org/plan-directions
WEATHER CONDITIONS 
You can check the weather conditions at weather.com. Please remember that we have coastal influences at the zoo and that you dress in layers to ensure comfort. This event is OUTDOORS and will be held as long the SF Zoo is open for business.
SF BAZAAR ON SITE SUPPORT 
Blas Herrera
Android: 415-684-8837
Email: info@sanfranciscobazaar.org
SF Bazaar staff will be onsite during Load In. There will be Zoo staff during show hours to assist you if you have any questions.
SF Zoo Contact ON SITE (DO NOT CALL before show dates)
Kelly Sheehan 415-317-2905.
PROMOTION
TWITTER: https://twitter.com/sfbazaar
FACEBOOK: https://www.facebook.com/sanfranciscobazaar
INSTAGRAM: http://instagram.com/sfbazaar/ hashtag #sfbazaar
DOWNLOAD WEB BANNERS HERE: https://sanfranciscobazaar.org/promote/