Nightlife Vendor Page
______________________________________________________________________________
#1 READ THE Nightlife PARTICIPATION WAIVER BEFORE YOU ARRIVE
#2 REMINDERS 
Lighting: Outlets will be available for your use. House lights will be turned up to maximum, but please bring your own lights and extension cords if you have small products or wish to illuminate your space more effectively. The event is at night, it is dark at night.

Bring your own table cloths!
Bring your own change, there will be no way to make change for you at the event
Allow for time to find parking if you are driving, see more details below.
Set up starts at 5 PM but you may start to line up for entry around 4:30 PM. No vendor is allowed on the floor before 5 PM per museum policy.
Please spread the word to your network of customers and friends.
TWITTER: https://twitter.com/sfbazaar
FACEBOOK: https://www.facebook.com/sanfranciscobazaar
INSTAGRAM: http://instagram.com/sfbazaar/ hashtag #sfbazaar
DOWNLOAD WEB BANNERS HERE: https://sanfranciscobazaar.org/promote/
>>PROMOTION FROM CALACADEMY 
 Facebook: https://www.facebook.com/events/455138024999127/
"Like" the Academy's NightLife Facebook page first so you can tag our page in your Facebook posts using "@NightLife at the California Academy of Sciences"
 Twitter: http://twitter.com/calacademy_nl
 Instagram: http://instagram.com/calacademy
*please tag us with @calacademy #casNightLife; Geotag the location of your photos with California Academy of Sciences.
Example call to action for Twitter:
Join us this week @calacademy_nl for NightLife and explore the science of eating! http://bit.ly/18cbOqv #casNightLife
Example call to action for Facebook:
Join us this week for NightLife at California Academy of Sciences and explore the science of eating from table to intestine! Details and tickets here: http://bit.ly/18cbOqv #casNightLife
Website: https://www.calacademy.org/nightlife
>NIGHTLIFE AT CALIFORNIA ACADEMY OF SCIENCES
Thursday December 12th 2019 from 6-10PM/ 21+
California Academy of Sciences
55 Music Concourse Drive
Golden Gate Park, San Francisco, CA 94118
Cost is $15 pp/$12 for members
https://sanfranciscobazaar.org/shows/night-life/
Booth Information as stated on application and payment page:
– Only  21 years+ are allowed to attend with a valid ID, NO exceptions.
– Vendors can bring one additional staff person -plus- 6 guests, see link below.
– This event is ONLY 4 hours so please plan your inventory and display accordingly.
– Approx. 8′ long x 5′ ft deep space on the museum grounds including…
-> One 6 ft table and two chairs (please bring your own table cloth)*
-> Listing on our SF Bazaar Gallery
-> 3 pairs of passes for guests & 2 passes for vendors (Value $120)
– While we plan to have all available lights utilized in the museum, vendors will be allowed access to electricity. We encourage you to bring your own power strips, extension cords and lighting, especially if you have small items for sale and wish to have customers view them easier. 
– Vendor booths will be placed on the main floor of the museum.
– There is no flame or smoke allowed in the building so please keep, matches, lighters and fire related presentations at home.
– All living organic material (plants material) must be inspected for pests ahead of time. Please email us separately if we need to schedule a pest inspection.
– Pizza is usually provided by the museum, but it's first come first serve.
*You may bring your own tables or displays as long as they fit in the space allotted. There is currently no height limitations. If you have further questions do not hesitate to reach out to us by email info@sanfranciscobazaar.org
>> REGISTERING YOURSELF & GUESTS
Vendors can bring one additional staff person and 3 pairs of guests for free.  Guests can attend during SHOW HOURS. Only vendors will be allowed in during set up.Both vendors and your guests should check in at our staff entrance at 75 Nancy Pelosi Drive. They will not let any vendors or your guests in through the front doors.
Register here: https://goo.gl/forms/H8X5IyEaf45LqQHa2
HARD Deadline to Register: TUESDAY 12/10/19 at 5 PM
>> GETTING THERE & PARKING
Please see map below. Three to four hour parking is available along the streets surrounding the Academy. Parking is OK past 10pm on Thursday nights. Parking in the garage is fine, however Nightlife does NOT validate for garage parking so please try to park in the designated NightLife parking on Nancy Pelosi Dr. (marked by "No Parking" signs) and get a parking pass from the business reception desk at the"Research & Staff Entrance" to lay on your dashboard. Parking passes are limited and based on a first come, first served basis.
Please load in at the East Driveway. One you have parked, a large orange monolith marks the catwalk bridge to the "Research & Staff Entrance" along 75 Nancy Pelosi Drive. Make sure to check in at the reception desk once you get inside. Both crew and guests should check in at our staff entrance. They will not let any crew or partner guests in through the front doors. We will have a few carts available to help with load in once you've checked in. Please bring your own if you do not want to load in faster.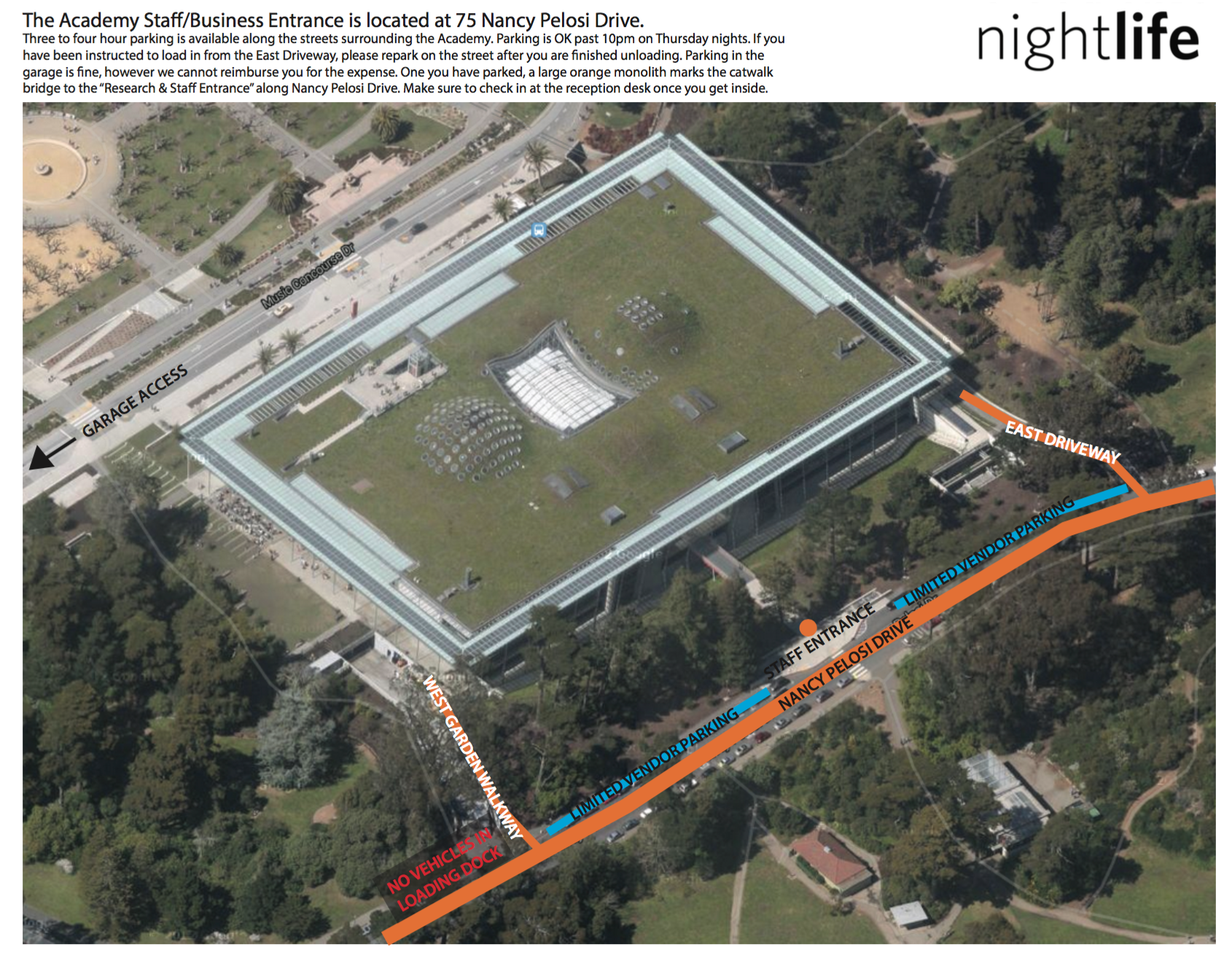 >> EVENT SCHEDULE
4:30 pm to 5:00 pm
Vendors check in at business entrance then line up at East Driveway to get ready to come into the building.
5:00 pm to 6:00 pm
– It takes ~15 mins to clear guests and then we get access to load in
– You must arrive for set up by 5:00PM for setup and dinner (pizza usually).
– Vendors can come in through business/staff entrance or through east driveway
– Note that we will have to move tables & chairs ourselves. Please be patient with San Francisco Bazaar staff while we quickly assist you to set up the layout.
6:00 pm to 10:00 pm
NightLife is open to the public
BOOTH ASSIGNMENTS & MAP
| | |
| --- | --- |
| Booth # | Business Name |
| 1 | Embla |
| 2 | Mayumix Botanical Design |
| 3 | Bottle of Clouds |
| 4 | Curio Tales |
| 5 | Nous Savon |
| 6 | Bloody Girl Gang |
| 7 | ZEBA |
| 8 | Slow Moon Rise |
| 9 | Aqua Cherry |
| 10 | Blue Nectar Soaps |
| 11 | Sumsaara |
| 12 | Iris Willow Jewelry |
| 13 | Bernal Burrow |
| 14 | Casey Girard |
| 15 | Artisan Copperware |
| 16 | Recover Your Thoughts |
| 17 | Ginkgo Seed |
| 18 | PHIOSUWAN |
| 19 | Diamond L Leatherworks |
| 20 | Maya Bauman Design |
| 21 | Tina Fossella Pottery |
| 22 | Heavenly Soap Company |
| 23 | Kotas Kreations |
| 24 | claywrangler |
| 25 | woolbuddy |
| 26 | Mamas y Papas |
| 27 | Maureen Shields |
| 28 | PRETTY FUN |
| 29 | cleverhands.net |
| 30 | Tung Design and Manufacture |
| 31 | Experience Matters Design |
| 32 | Golden Rows Gardens |
| 33 | Cody Vrosh & Binary Winter Press |
| 34 | Ounce Cookies LLC |
| 35 | Fabula Tea |
| 36 | Brigadeiro Sprinkles |
| 37 | Julems ceramics |
| 38 | Granny Panty Designs |
| 39 | S for Sparkle |
| 40 | Cotton Crustatcean |
Download full map by clicking image below.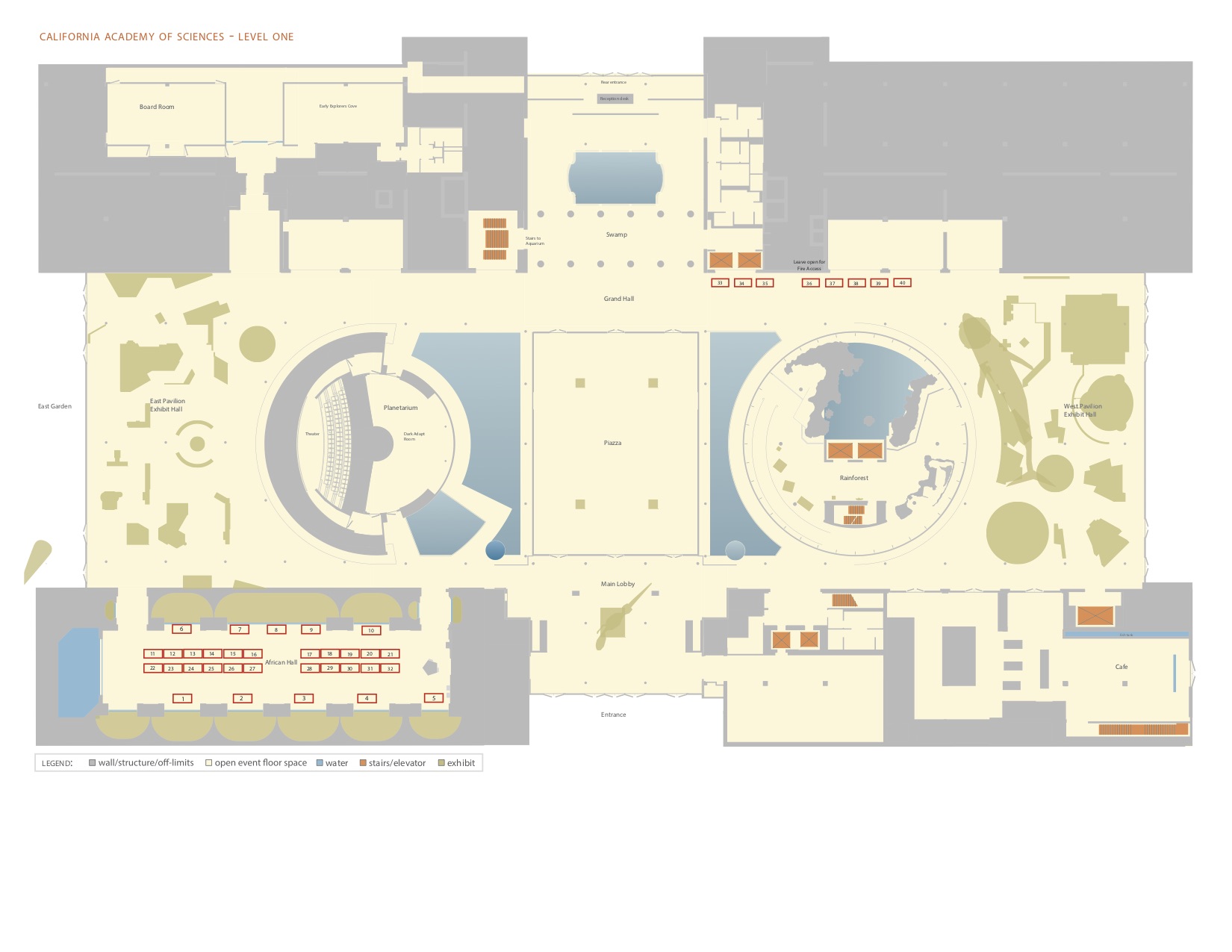 African Hall Detail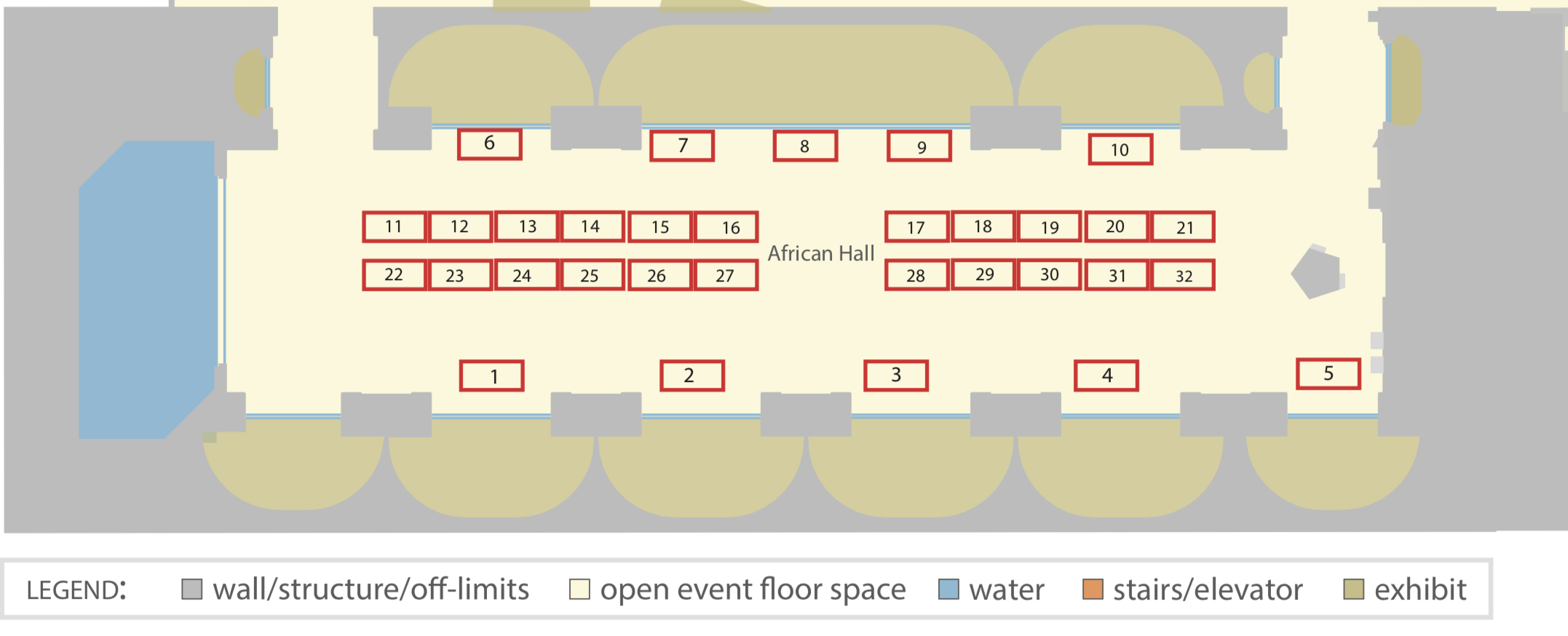 Rainforest Hall Detail