Vendor Information
>> GETTING FED AT SAN FRANCISCO BAZAAR
Saturday Morning
After you check in, don't forget to come by and pick up a hot cuppa and some fresh baked treats from Twisted Coffee and Donuts courtesy of our friends at CreativeLIVE.
Saturday and Sunday Lunch
We have a selection of awesome food choices this year: https://sanfranciscobazaar.org/shows/holidayshow/food/ Mention that you are a vendor and most will be giving a discount on site!
Special delivery service available through The Town Kitchen
The Town Kitchen is super excited to be at SF Bazaar. It will be our first official event as a company + we can't think of a better place to be.
To support our crowdfunding efforts, we're offering vendors lunch at a reduced rate ($10) + we'll even deliver to your booth between 12 and 1pm!
The menu (all boxes come with a Chai + fair-trade truffles from Alter Eco chocolates)
Japanese Curry Chicken Salad Sando w/ Napa Slaw w/ Togarashi Dressing
or  Squash Pesto Linguine w/ Cherry Tomato, Toasted Pecans, Roasted Carrots, Shaved Parmesan & Sous Vide Egg
Order our $10 Lunchbox through our IndieGoGo campaign: bit.ly/thetownkitchen
Important: Write SF Bazaar + your booth name in the shipping details
Look forward to seeing you all this weekend!
Sabrina (of Cynically Delicious + The Town Kitchen)
>> PROMOTE YOUR PRESENCE AT SAN FRANCISCO BAZAAR NOW
While San Francisco Bazaar does have a great following, we still rely on grassroots marketing from YOU to spread the word about the show.  Please spread the word to your network of customers and friends. Thank you!
TWITTER: https://twitter.com/sfbazaar

FACEBOOK: https://www.facebook.com/sanfranciscobazaar
FB EVENT: https://www.facebook.com/events/1495698130716797/
INSTAGRAM: http://instagram.com/sfbazaar/  hashtag #sfbazaar
DOWNLOAD WEB BANNERS HERE: https://sanfranciscobazaar.org/promote/
SHARE THE DIGITAL VERSION OF OUR POSTCARD: Click to Enlarge and Download
High resolution images suitable for printing.
Click the text link to open image for download.


Single postcard Front


Single postcard Back


8×10 4 postcards Front


8×10 4 postcards Back
Where is San Francisco Bazaar advertising? SF Bazaar will be featured in several local newspapers including the SF Weekly, East Bay Express, radio and online social sites such as Yelp, and Fun Cheap SF.
>> THE EIGHTH ANNUAL SAN FRANCISCO BAZAAR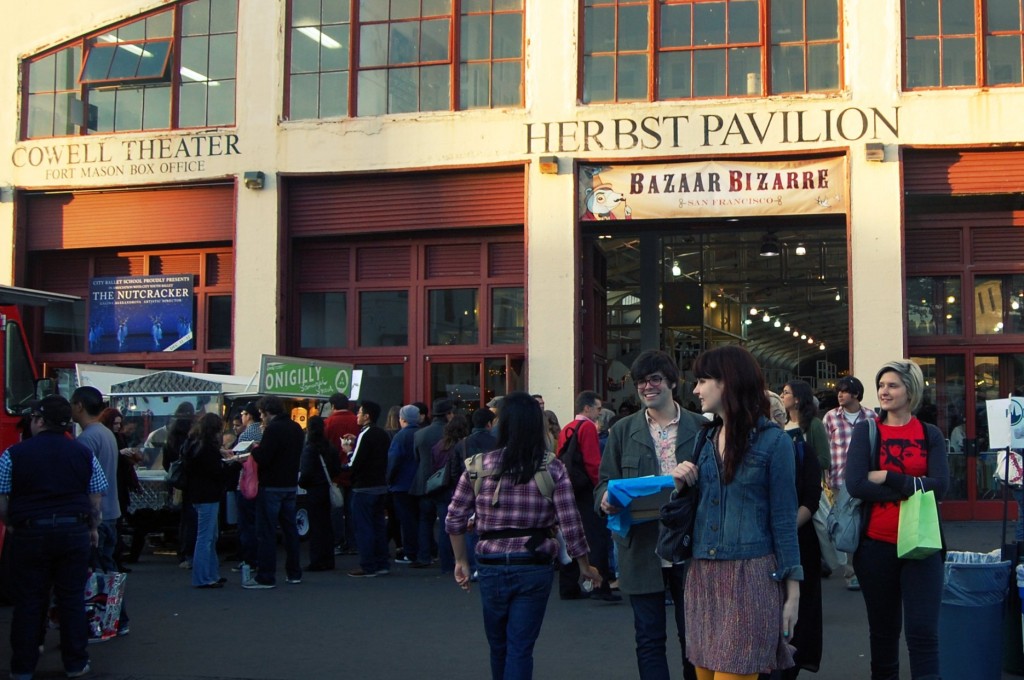 SHOW HOURS & TIMES
December 13th & 14th 2014  
Fort Mason Center
Herbst Pavilion
Paid Parking is available at the venue and within walking distance
FREE to attend
Directions to Fort Mason can be found here.
Saturday & Sunday 11-6PM – FREE TO ATTEND
ABOUT YOUR BOOTH SPACE
Each booth space is 8 x 8'. Your booth display is entirely up to you – it's an open floor plan so there are no divisions between booths. If you need inspiration you can always check out our Flickr photo page.
All spaces are INDOORS and you are NOT allowed to have covered/enclosed tent structures. 
If you are planning on bringing some kind of displays or structure, please ensure it fits in your space.
ALL side walls, drapes or any enclosing structures in your booth must be constructed with certified flame treated material. Describe all display items you will be using below and include any questions you may have in the Vendor Survey.
There will be NO use of the wall space in the majority of the building due to a fire clearance. Please only plan to hang or display items with your own furniture or fixtures.
ONLY blue painters tape may be used to attach anything to any of the building's surfaces and floor.
>> LOAD IN
Set up hours are between 9am – 11AM on Saturday December 13th 2014. This is plenty of time to set-up, please do not show up early. You can quickly unload your car at the parking lot and drive out without paying a fee.
CHECK IN AT THE San Francisco Bazaar INFO TABLE
Here you will:
• Pick-up an event map
• Get directions to our vendor lounge where we will have snacks and hot coffee and tea
Everyone must check in with us upon arrival
Once inside, you'll find your booth is marked. Please make sure to stay within your designated space. We will have several volunteers on shift the entire show to help break you or help with any load-ins. Be sure to ask at the information booth for assistance.
RENTAL FURNITURE
ALL rental furniture was reserved during booth payment. You are responsible for bringing these to your booth. If you have rented any tables and chairs, we will show you where to pick those up also. Tables are 6 ft x 30″ and chairs are basic folding type chairs. 
There is no need to break-down or return your rental equipment at the end of the day on Saturday – however, you are absolutely encouraged to take all merchandise and display items with you when you leave that night. The building is locked overnight with two security guards on duty , so it is secure – but we won't be held responsible for any loss, theft or damage of items left overnight.
WIFI 
There is no free wifi offered for this show. We strongly encourage all vendors to seek out mobile solutions for taking credit card payments, using services such as Square or Paypal.
LOADING OUT
Breakdown time is at 6PM on Sunday. You are not allowed to pack up early.
BUSINESS INFORMATION
You are responsible for registering your business  and collecting sales tax for the items you're selling. This counts for people already registered in other states as well.
You can apply online for a permit or license using eRegistration (eReg) available on this website at www.boe.ca.gov.  eReg is also available in our field offices. Please contact our Taxpayer Information Section for assistance at  1-800-400-7115.
IRS: 1-800-829-4933 or www.irs.gov
BOOTH ASSIGNMENTS
Business Name > Booth Number
.retool. > 117
11:11 Enterprises > 135
Alibi Interiors/Young America Creative > 17
Amos Goldbaum > 35
amy rose moore illust/Joshua Coffy > 103
An Li > 60
Animal Instincts Apparel > 84
Art of Natalie McKean > 157
As Wood As It Gets  > 114
Ashley Bell Art and Illustration > 116
Atelier > 55
Awkward Affections > 25
BananaSaurus Rex > 97
Batsu/Maru > 67
Bernal Burrow > 149
Birdy Botanicals > 154
Blind Insect > 143
Blufox > 45
Blushie > 115
Bottle of Clouds >  31
bug under glass > 110
Bugs And Monsters > 92
Buluchu > 69
Bunnycone Designs > 126
By Nieves > 15
Calliope/Desiree Salas > 52
Carnival Goldfish > 136
chibi. > 153
Chromaculture > 95
CocoTutti Confections > 162
Cody Vrosh & Binary Winter Press > 159
Coffee n Cream Press/Dandy Lion Press > 14
Compass Rose Design > 19
Cookie & the Dude > 29
Cotton Crustacean > 7
Creative Ninja > 129
DawnKathryn Studio > 82
Delusions of Grandeur  > 112
DIY Activity Booth > 169
e.b.friday > 54
earthquake state designs > 46
Ele Story > 5
Elina Davenport > 125
Elvio Design > 51
Enchanted Squirrel > 94
Everyday Love Art > 89
Ezme Designs > 98
Fabripod/Gradient Matter > 144
Fat Rabbit Farm > 66
Fernworks > 63
field day > 158
Fleischman's Handmade > 62
Fluff Engine > 142
Foamy Wader > 34
forms in clay > 21
gneisswood >33
Gooseberry Press > 23
Graffiti Glass > 26
Granny Panty Designs/Roia O'Brien Jewelry > 75
Hilary Williams > 85
Hummus Apparel > 74
inki-Drop > 64
Iris Willow/Aiko Designs > 11
Isabella Kung Illustrations/Ciaee > 28
Jennifer Clifford Art + Design > 99
K L A I > 32
Katy Kristin > 96
Kelso Doesnt Dance Living > 123
Kenmoku > 9
Kikidoodle > 132
Korrupt Label > 3
Krista Tranquilla Studio > 100
Lady Alamo > 119
Laughing Devil Designs, LLC  > 73
Laurel Begley Ceramics > 18
Lazy Lotus >  140
Le Petit Elefant by Genevieve Santos > 122
Leafcutter Designs > 36
Leilani Joy > 6
LeslieFrancesca > 8
Libation Lab > 107
Lisa Inez > 72
LOOMLAB > 38
LUNA BAR > 59
M. Design > 145
Mac Cutting Boards > 1
Maggie Hurley ~ Whimsy & Whatnot > 151
Magnote > 65
MAHOOHOO > 104
MAIKA > 91
Maison de Monaco/kika's treats > 163
Martin Hsu Art and Design > 79
Meagan Moore Illustrations > 105
Meg A. Myers Designs > 13
Meridian Press > 83
Mink and Mango > 4
Miso Handmade > 77
MODify/d > 102
Monkey + Seal > 137
Moonshine Divine > 134
MsAmandaJayne/simplypearlee > 156
MXM Jewelry & Design > 155
Newd Elements > 111
NikkiZabicki- Urban Fashion and Decor >133
NiseyKnits > 147
nothing obvious > 58
Oaktown Jerk > 161
OddFauna > 118
oh, hello friend > 50
Oopis Nein/Tracy Lewis Art > 48
Outer Sunset Pottery > 124
p.o.p. candy co. > 166
PerCadium Apothecary > 37
Petal & Stem > 22
Pickypockets Press > 128
PineBlossoms > 10
plastique*/Paper Trail > 49
Plum Blossom Farm 121
Plum Bum Press/Clandestine Press > 101
Plumeria Flours > 164
Pretty Fun Designs > 120
RecoverYourThoughts.com > 113
Recycled Glassworks > 130
Red Icebreaker > 81
Robots by Matt Q Spangler > 80
Saint & Olive > 167
Sesame Seed Design > 70
SF Bazaar/City Green > 168
Sicklings/Felicia Ann Illust > 39
Skeletal Dropkick > 76
Skincare by Feleciai > 109
Sky Millinery > 53
Snorffles & Meeps > 127
Socola Chocolatier LLC > 160
Steampunk Garage/Kristen's Kords > 108
stoneface project/headless designs > 146
Suga Jewelry > 152
Summer Romasco Studio > 44
Sweaty Taxidermy > 2
Sweet Lauren Cakes > 30
T-WE TEA > 88
Tessa Kemp Jewelry > 148
The Dolly-Mamas LLC > 86
The Gypsy Titmouse > 47
The Heated > 131
The Latch Key > 56
The Little Red House > 68
The Poster List > 139
The Poster List > 138
The Xocolate Bar > 165
Theresa Arrison > 40
Tinkertart > 90
TMK Design LLC > 93
Trash Amps LLC > 12
Twentyseven Gears > 57
type.lites > 43
Unpossible Cuts > 42
Unusual Cards > 87
usagiteam / Bowtie Factory > 61
Vanda Playing Cards > 106
Vivi Kids > 71
Volo Leather Goods, Gilded Jewelry > 24
walkingbeans > 27
Wood Thumb > 41
Woolbuddy > 20
XOFINN/Bearcat Design > 150
Yes & Yes Designs > 78
Young America Creative > 16
Your Nest Inspired > 141
Kokio Republic  > A
Frozen Kuhstard >  B
HP Sprout > C
Curry Up Now (Sat) Bacon Bacon (Sun) > D
BOOTH LAYOUT: Click to enlarge or Download pdf HERE 
SUGGESTED VENDOR CHECKLIST
• Extra tables and chairs if you need them.
• Fun sales displays and signage
• Tablecloths
• Ample cash change and secure lock box
• Credit card processing device (not required but highly recommended!)
• Promotional items to drive sales to your online or b&m store.
• Bags, boxes for your products to go home safely with your customers
• Calculator/receipts
• Booth Buddy to help break you and keep you company
• Snacks + Drinks
>> GETTING TO FORT MASON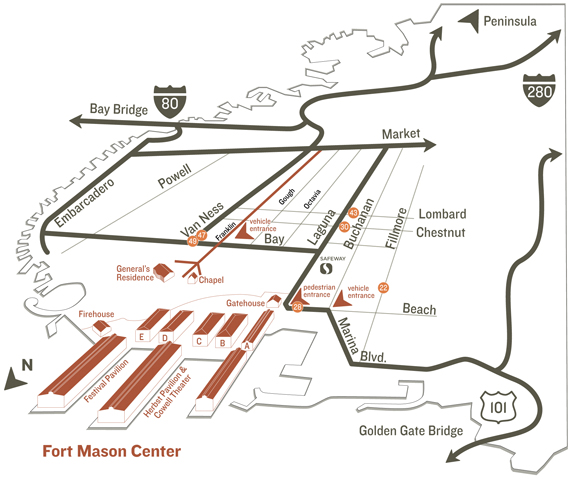 http://www.fortmason.org/aboutus/visitor-information/directions
CONTACT INFO
sf_info@sanfranciscobazaar.org