NightLife Holiday Bazaar Application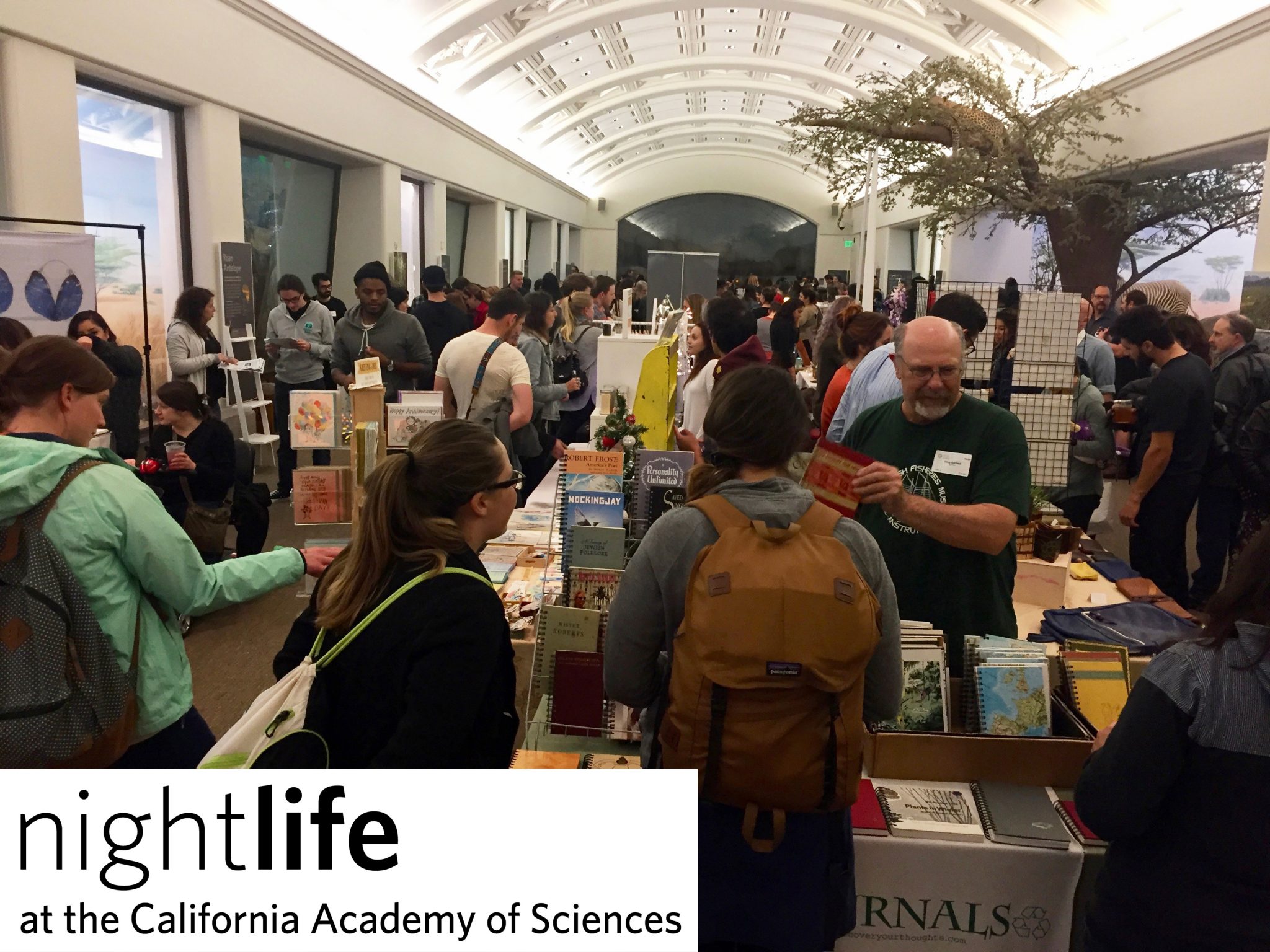 NightLife is a weekly event where visitors ages 21 and older can enjoy music, science, entertainment, and cocktails while experiencing the Academy's world-class exhibits with friends. Each weekly installment features something new and different. San Francisco Bazaar LLC will be curating handmade vendors at this event alongside other museum programming.
Thursday December 12th, 2019
California Academy of Sciences 6-10PM/ 21+
55 Music Concourse Drive
Golden Gate Park, San Francisco, CA 94118
Map & Directions
Cost is $15 pp/$12 for members
HOLIDAY NIGHTLIFE Thursday, December 12th, 2019 
Join us for one of Nightlife's most highly attended events of the year, our annual SF Bazaar holiday market! We'll be hosting handmade and locally designed goods alongside fun holiday-themed museum programming including an ice rink! Attendees wait all year to enjoy this unique holiday shopping experience!
IMPORTANT SHOW POLICIES
> Applications fees must be submitted via PayPal. You do not need a PayPal account to submit your fee.
> If you do not possess a resale license for California please write PENDING in the application.
> You are NOT allowed to share your booth after you been accepted.
> Nightlife is a 21+ show due to alcohol being served on site. Please do not attend unless you are ages 21+ and all your staff also meet this requirement.
> Due to the nature of this show being hosted at a museum, we are restricted to approximately a one hour set up time. Please do not commit payment if you cannot meet this time restriction. 
> We strongly encourage you to bring your own lighting. Because this event is at night, the available lighting is not always sufficient for small pieces like jewelry and artwork to be seen at their best. Electricity is FREE, but you must bring your own lights and extension cords.
> No refunds are given after payment is submitted. 
Applications accepted Monday August 19th – Monday Sept 30th 2019.
Notifications sent by email Tuesday October 1st 2019.
SHOW INFORMATION
+ Number of vendors to be selected: 40
+ Show hours: 6 PM – 10 PM
+ Show Set Up hours: 4:30 – 6 PM
+ Customer attendance: Approx. 2500-3000 (based on past shows)
+ Booth Fee is $90 which includes:
-> Approx. 8′ long x 5′ ft deep space on the museum grounds
-> One 6 ft table and two chairs
-> Electricity and Wireless Internet Access as supplied by the venue
-> Listing on our SF Bazaar Gallery
-> 3 pairs of passes for guests & 2 passes for vendors (Value $120)
There is a $10.00 NONREFUNDABLE application fee. Please submit the application & complete payment via PayPal or your application will not be reviewed. 
Applications accepted Monday August 19th – Monday Sept 30th 2019.

Notifications sent by email on Tuesday October 1st 2019.
TERMS & CONDITIONS
All applicants must agree to comply with these terms and conditions to be accepted as a Vendor:
> Each booth fee is for the use of one Booth Space for each show (see above for specific booth fees)
> Booth dimensions vary by show (see above for details)
> A non-refundable Jury Fee is required per application
> Upon acceptance, booth payment is due within 72 hours via Paypal. If the vendor does not pay in full by the deadline, San Francisco Bazaar reserves the right to assign the booth space to the next artist on our list.
> The Booth is only for the Vendor(s) use, indicated in their submitted application. Any resale or assignment of the Booth by the Vendor is strictly prohibited. The Vendor, its employees, personnel, and agents agree to be bound by the terms of this agreement and all event rules and regulations. In the event that the Vendor has sold or assigned the Booth, San Francisco Bazaar has the authorization to ban you from all future shows.
> Sharing a booth space is allowed for up to two artists or a themed collective
> The Vendor will have insurance for their business and/or is responsible for any of its liabilities, actions or oversights. The Vendor will be fully responsible for any claims related to the Vendor's actions at San Francisco Bazaar.
> It is expected that all vendors will be ready and able to sell at the time of event opening and may not leave any earlier than the end of the show.
> Vendors will behave in good conduct, keeping their area free of debris.
> San Francisco Bazaar is not responsible for any loss, damage or theft of property, injury to or death of the Vendor (or it's employees and/or personnel). The Vendor assumes all risks of loss, damage to or destruction of any its property resulting from any cause.
> Vendors must have a temporary or permanent CA seller's permit by the time you vend with us. California law states that you must have a seller's permit in order to make sales. You are considered a retailer if you are selling any tangible items to customers.
> Vendors agree to adhere to all laws, policies, rules, and regulations applicable to the goods offered the Vendor, including obtaining all licenses, permits, and approvals that may be required to enable the Vendor to fulfill all its obligations in this agreement.
> The terms of this agreement may be changed by San Francisco Bazaar and notice any changes will be sent to you in writing via e-mail. You agree to accept this notices by e-mail to the address listed in your application.
> The event will proceed regardless of the weather.
> SF Bazaar does not guarantee any level of attendance at the Event and there will be no refunds, under any circumstances.
> No refunds will be given due to cancellations from either the Vendor or San Francisco Bazaar. This agreement will be effective for each show the Vendor participates in.
*** If you currently have an account please login [Located at bottom of page], if not please register by creating your username, password, and providing your email in the below fields. Once you submit (AND wait for the REDIRECT to take you to PayPal to pay the $10 Application fee) you will then have an activated account, Thanks ***
APPLICATIONS ARE NOW CLOSED. NOTIFICATIONS WILL BE SENT WEDS. OCT 2nd 2019 TO ALL APPLICANTS.