Non-Profit Organizations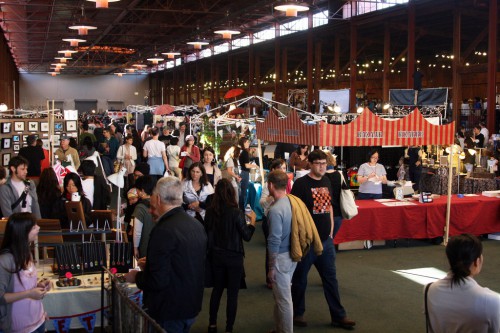 San Francisco Bazaar's Annual Holiday Festival
Saturday December 1st & Sunday December 2nd 2012
Concourse Exhibition Center EAST HALL
620 Seventh St. (at Brannan)
San Francisco, CA 94103-4901
Saturday & Sunday 11-6PM
Number of Retail Vendors: 200
Number of Sponsor Booth: 10
Number of non-profit informational: 40
San Francisco Bazaar began in 2001 in the Boston-area as a group of friends cobbling together their handcrafted DIY wares to sell and stage an offbeat entertainment extravaganza. In 2004 the San Francisco Bazaar spread to Los Angeles and Cleveland. In 2006 Make Magazine took them under their wing as part of the Maker Faire Bay Area and Austin, Texas. The Bazaars in Boston, Cleveland and San Francisco happen every year during peak holiday shopping season. Each event draws thousands of shoppers and workshop attendees. See our photos at www.flickr.com/groups/bazaarbizarresf for images from previous fairs.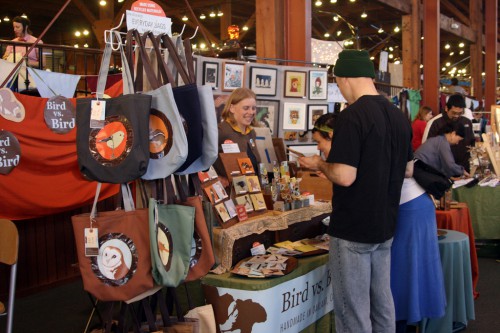 SHOW STATISTICS
San Francisco Bazaar is in its sixth year of production. It is a two-day event that is free and open to the public. 200 of the first shoppers will get a FREE exclusive 2012 tote and art print
Attendance
2007 – 3,500 2008 – 4,000
2009 – 8,000 2010 – 15,000*
2011 – 16,000 2012 – 18,000 (anticipated)
* first year offering free admission.
Craft Fair Vendors
2007 – 90 vendors 2008 – 115 vendors
2009 – 120 vendors 2010 – 150 vendors
2011 – 200 vendors 2012 – 250 vendors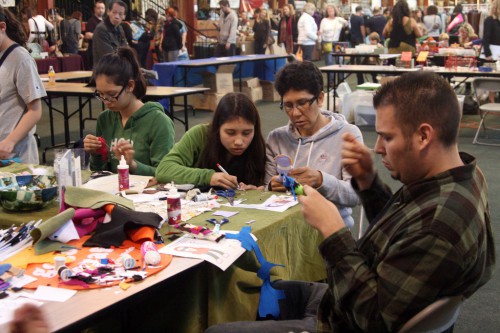 Current Consumer Reach
Newsletter subscribers to date: 10,000 +
Facebook Fans: 1,700 +
Twitter Followers: 450 +
Website hits: 108,000 annually
Unique Web Visitors: 55,702 annually
Vending Artists & Designers: 650+ annually
About San Francisco Bazaar Shoppers
VENDING OPPORTUNITIES
Booth spaces are available to Non-Profit Organizations for a discounted, usually 35-50% off ($360: full price for juried artists). Organizations are allowed to disseminate information and sell approved products in their booth.
Organizations must provide proof that they are a 501(c)(3) through a letter of acknowledgement for the discounted booth fee.
If you have something interactive to offer our shoppers (workshops, demonstrations, make and take activities, free giveaways), we may be able to offer additional discounts or trade sponsorship to your organization. Please contact Sabrina Mutukisna full details on pricing.
SHOW INFORMATION
+ This is our sixth year producing this holiday show.
+ Approximate number or vendors selected : 150 retail vendors and 50 Non-profit and Sponsors
+ Approximate number of customers: 15K
+ Booth Fee includes the following:
-> 10′ x 10′ ft space
-> One 6 ft table and two chairs
-> Inclusion in our vendor gallery
+ Placement will be determined based on the time of your application
ABOUT YOUR BOOTH SPACE
Each booth space is 10 x 10'. Your booth display is entirely up to you – it's an open floorplan, so there are no divisions between booths. If you need inspiration you can always check out our Flickr photo page. All spaces are INDOORS and there is no need for canopy tents or other outdoor equipment. If you are planning on bringing some kind or displays or structure, please ensure it fits in your 10×10′ space. Electrical outlets are available throughout the building. Please bring your own electrical tape, extension cords and power strips.
For more information or to purchase booth space contact:
Sabrina Mutukisna
Non-Profit Coordinator
415.685.3280
Jamie Chan
Director, San Francisco Bazaar
sf_info@sanfranciscobazaar.org
415.684.8447
Payments accepted by CHECK or PAYPAL*
*will include 5% transaction/admin fee if paid online. Paypal accepts credit and debit cards for payment.
Mailing Address:
San Francisco Bazaar
1559B Sloat Boulevard #198
San Francisco, CA 94132