Nightlife Application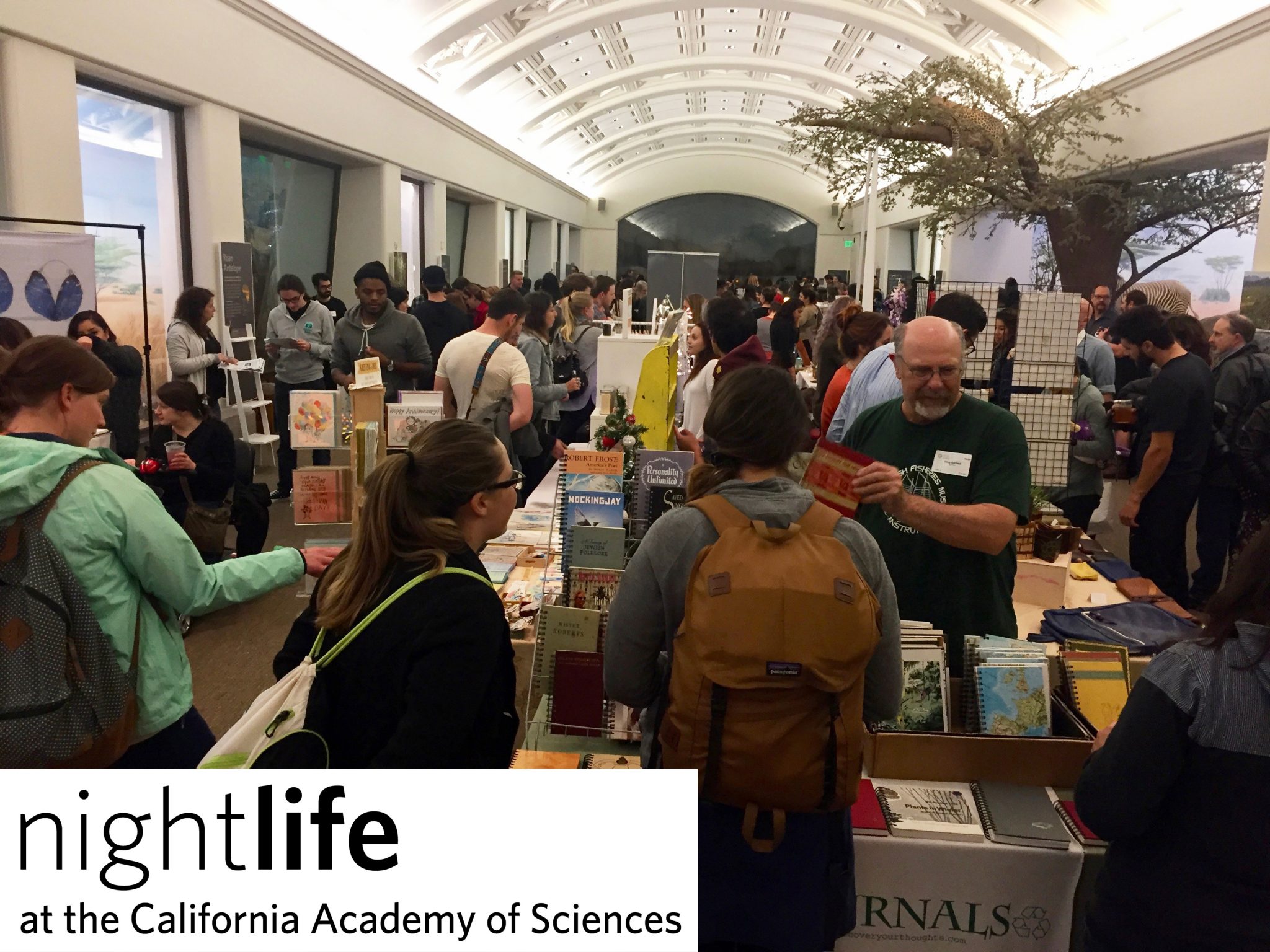 The California Academy of Sciences is back for two summer NightLife markets!  NightLife events are an eclectic mix of science, music, and art. Join SF Bazaar as we partner with CalAcademy Nighlife events to host a handmade marketplace with music, demonstrations and more! 
Thursday 6-23-22 for Pride Nightlife
Please note that this show is intended to be a space for LGBTQ+ celebration and pride. Nightlife and SF Bazaar will prioritize the acceptance of vendors who identify with this community. 
Thursday 7-28-22 for Handmade Bazaar Nightlife
This will be a show to celebrate all things handmade! Makers of all kinds are welcome to apply. Please note we can only host food vendors who are offering pre-packaged goods. 
California Academy of Sciences
55 Music Concourse Drive
Golden Gate Park, San Francisco, CA 94118
Map & Directions
Facebook: https://www.facebook.com/calacademy-nightlife 
Vaccination Policy:
To enter NightLife at the Academy, one of the following two combinations is required:
-Proof of vaccination – Card, photo on phone, or digital vaccination record AND Valid Photo ID (Drivers License, State issued ID Card, Passport, Student ID, Employer ID)
-Negative PCR or antigen test within 72 hours of your visit (home tests are not acceptable) AND Valid Photo ID (Drivers License, State issued ID Card, Passport, Student ID, Employer ID)
SHOW INFORMATION
– NightLife is a 21+ show due to alcohol being served on site. Please do not attend unless you are ages 21+ and all your staff also meet this requirement.
– Vendors will be notified of acceptance on a rolling basis
– Due to the nature of this show being hosted at a museum, we are restricted to approximately a one hour set up time. Please do not commit payment if you cannot meet this time restriction.
– We encourage vendors to bring your own lighting. Because this event is at night, the available lighting is not always sufficient for small pieces like jewelry and artwork to be seen at their best. Electricity is FREE, but you must bring your own lights and extension cords.
– No refunds are given after payment is submitted.
– Number of vendors selected: June 23rd (20 vendors) July 28th (35 vendors)
– Show hours: 6 PM – 10 PM with Show Set Up hours: 4:30 – 6 PM
– Customer attendance: Approx. 1200-2000
– Booth Fee is $60 which includes:
    > Approx. 8′ long x 5′ ft deep space on the museum grounds
    > One 6 ft table and two chairs
    > Electricity and Wireless Internet Access as supplied by venue
    > Listing on our SF Bazaar Gallery
    > 3 pairs of passes for guests & 2 passes for vendors (Value $120) 
Social Media Subscribers  
California Academy of sciences: Youtube (147K) Facebook (105K), Instagram (90.6K), Twitter (14.8K)
SF Bazaar: Newsletter (7K) Facebook (4.7K), Instagram (2K), Twitter (1.1K) 
Tips For Our Application Process
> If you have an account, please log in at the very bottom of page. If you are new to our show, please register by creating username, password, and providing email in the below fields
> Make sure to check the " I Agree" box for our Policy and Agreements or the app will not submit 
> Once submitted you will get a message of confirmation before being redirected to pay the $5 Application Fee, please wait for that page to load. Thank you! 
VENDOR APPLICATION BELOW